Suspect the corrupted music file if it takes too long time or it fails to make MPD DB (MPD DB Update).
MPD should pass the corrupted music file during DB Update. But sometimes MPD stick at some corrupted file for a long time and increase the system CPU load to 100%. Finally MPD is killed. Like this a few corrupted files are the main cause of DB Update failure.
Even if it is suspected that DB Update failure is due to these corrupted music files, users cannot solve this problem becuase he cannot figure out which music files are corrupted.
To solve this problem EasyMPD has a function detecting the corrupted files during DB Update. When a corrupted file is found EasyMPD tries to change the file extension name not to be rescanned at next DB Update and if it is succeeded EasyMPD restart DB Update from the beginning. But please note that it can take too much time to do DB Update because DB Update is restarted in each time when each corrupted file is detected if there are many corrupted files in music directory. Generally it will take about 2 ~ 4 hours to do DB Update with 1T HDD if there is no problem. But if there are many corrupted files in the 1T HDD it can take several days to finish DB Update.
You can enable this function at EeasyMPD WEB GUI, "MPD -> MPD Configuration". Select check box of "Remove Corrupted Music File" and Save.


If you want to know which file is corrupted and of which the extension name is changed, you can open "corrupt_file.txt" in the folder registered as DB Backup directory. If DB Update takes more time than you expect you'd better to open this file and check the corrupted file frequently. And then, if there are one more corrupted file in same folder, you'd better move or remove the whole folder to speed up DB Update. If you cannot find "corrupt_file.txt" in DB Backup directory after DB Update is finished, it means there is no any corrupted file in you music directory.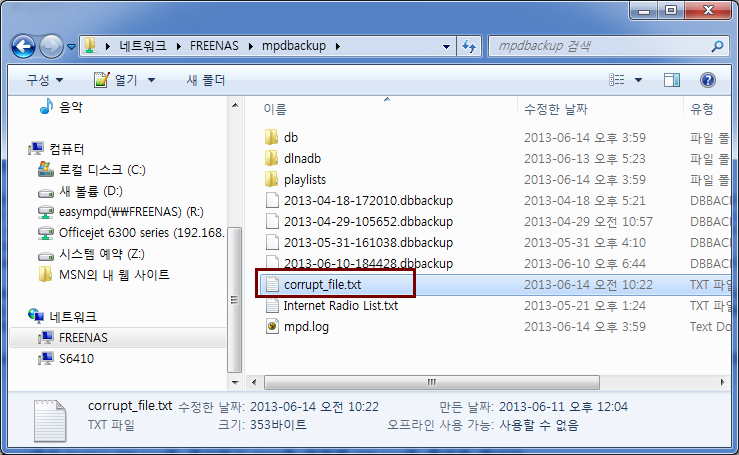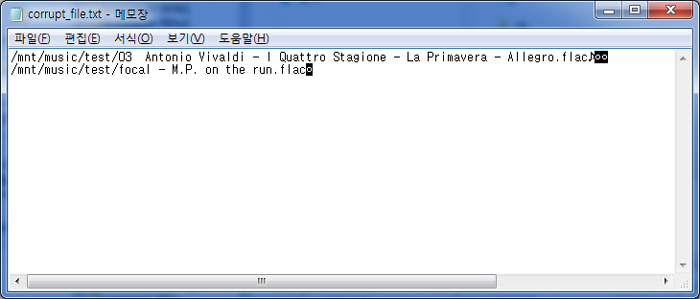 The extension name of corrupted file is changed to "_corrupt".
If there are just several corrupted files in your music directory, you can just wait until EasyMPD finish DB Update. But if you think you may have a lot of the corrupted files, you'd better actively monitor the DB Update and remove the whole folder containing the corrupted files if it is needed. If not, it can take several days to finish DB Update.
You can monitor the DB Update with EasyMPD WEB GUI.
When MPD is doing DB Update, the staus page (System -> Status) of EasyMPD WEB GUI show the link of "Go here check DB Update progress"


You can monitor the DB Update progress there like as below image.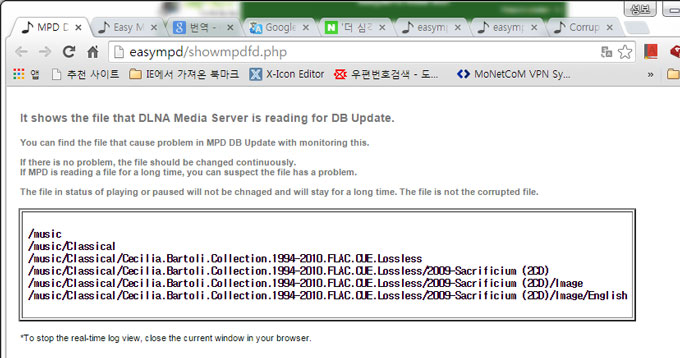 If there is no problem the file shown in this page should be changed continuously. If the progress stays at a file for a long time, you can suspect that the file is corrupted.