The latest version of EasyMPD is 1.4.0.
The latest version of EasyMPD is 1.4.0. Please update EasyMPD Firmware if you are using previous version. (2015-09-25)
Now EasyMPD is available for PC Engines APU board.
Linn Songcast Receiver function is added.
EasyMPD 30 Days Free Trial version is available.
[1.4.0 Release Notes]
Now PC Engines' new board, APU can be used for EasyMPD. The PC Engines APU board is a big step up in performance and capacity from the popular ALIX board. It has 1Ghz dual CPU and 2 or 4 GB DRAM. And mSATA SSD and SATA HDD can be directly connnected to the board. With APU board EasyMPD becomes a Multimedia Music Center not just a music player.

Complements UPNP/DLNA Media Server for APU board.
If mSATA SSD or SATA HDD is connected to APU board it can be used without user's configuration. If you use mSATA SSD or SATA HDD, UPNP/DLNA Media Server and Torrent Client will be faster than using USB external HDD. And you can use EasyMPD with APU board as a NAS. Maybe you don't need another NAS anymore.
The ethernet port for router connection at APU board is different from Alix. You should plug LAN cable into the farthest ethernet port from power connector at APU board.
All system is stabler than Alix due to emough resources. Users may feel better sound quality becuase of much more sytem stability.

EasyMPD is now supporting Linn Songcast. Linn Songcat sends any audio from your computer to network player with Songcast Receiver function and get better sound from your music services and from web pages. Available for Windows and Mac OS X. The sound quality of Songcast is better than Apple's AirPlay. (Go to see more.)
You can check DAC connection status with LED. The middle LED will turn on with DAC connection failure.
EasyMPD will automatically try to reconnect USB DAC if it fails. So it solves the problem that some DAC cannot be discovered without reboot of Alix or APU when the DAC is turned off and on. From 1.4.0 version of EasyMPD it makes a speaker test sound when it is bootup and when an USB DAC is connected to the board.
You can disable the Torrent Clinet auto shutdown function.
If you are using one more EasyMPD at same network, you can change the hostname of it at "System -> Network" in EasyMPD WEB GUI. The hostname change will affect the name of AirPlay, MPD Renderer, UPNP/DLNA rederener, UPNP/DLNA Media Server, Linn Songcast and file sharing host.
Upgrade the version of UPNP/DLNA Media Server, minidlna to 1.1.5.
Upgrade the version of MPD's UPNP/DLNA Media renderer, upmpdcli to 0.12.
Upgrade the version of BubbleUPnPserver to 0.9.
Upgrade the version of RT Linux Kernel to 3.18.20.
Find and correct many bugs for 1.4 version upgrade.
Now EasyMPD 30 Days Free Trail version is available. Anyone who has PC Engines APU or Alix can dowload it and use EasyMPD for 30 days for free. (Go go see more.)
Program update check is possible at "System -> Check Update" in EasyMPD WEB GUI.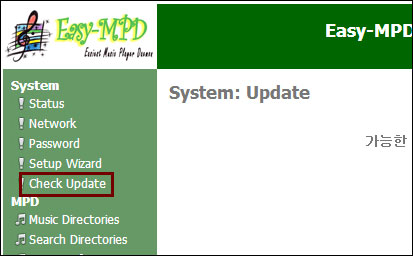 Things to watch in program update:
If possible, reboot Alix before check update.
Do not power off Alix in progress of program update. Alix will automatically reboot after finishing of program update. You must wait until rebooting is completed.
During progarm update, WEB GUI cannot be opened. You don't need to worry. You can check the status of update with LEDs. And you should wait until the program update is finished and Alix rebooted automatically.
During all three LEDs in front of Alix keep turn on without blinking.
Sometime you can fail to update if there is a problem in the CF memory. Then you can download EasyMPD again and install it newly.


Changes of 1.3.2 version. (2015-06-21)

From 1.3.2 version, EasyMPD includes two MPD versions of 0.18 (previous version) and 0.19 (new version). Users can select and use one of the two versions.

You can select the version at "MPD -> MPD configuration" in EasyMPD WEB GUI.
The Databases between 0.18 and 0.19 are not compatible for each other. So MPD will create new DB if you exchange the MPD version. Please backup the previous DB before you exchange the MPD version. Now the file name of the backup DB shows MPD version as well.
Unfortunately MPoD and MPaD, the MPD clients used in Apple devices are not compatible with MPD 0.19 version. If you are using MPoD or MPad you should keep using version 0.18.

A good torrent client, Deluge is added to EasyMPD. Now you can download files with torrent in Alix.To activate the torrent client function a USB external HDD should be directly attached to Alix. This feature will be very useful for the user who keep turning on Alix and use it as NAS too. (Go to see more detail for using torrent client in Alix.)
Fixed the bug that the dual Alix does not make sound in some case.
Fixed the low level volume problem in some DAC.